Composer / Arranger / Trumpet / 
Flugelhorn 
Rob Gellner is a Guelph, Ontario based composer/arranger, trumpeter and flugelhorn musician active in many different genres of music.  He is currently (2021-2023) completing a double Masters degree in Professional Media Composition and Orchestration for film, games and television. 
The Rob Gellner Sextet released their first CD, entitled What If (2015) of his original compositions. Rob's music is lyrical, catchy melodies with lush harmonies and thoughtful arrangements that make up his unique style.  This CD features a three horn front-line and strong rhythm section performing a diverse set of music reflecting influences of jazz-funk, classic 50's jazz, fusion and world music. 
Rob's versatility finds him in big bands such as KW Big Band Theory and The Basically Basie Big Band, playing funk/blues/r'n'b with Fresh Water Funk and Groove Corporation, playing in a 12 piece Celtic-Jazz ensemble with The Clefs of Moher, doubling in pit orchestras for Royal City Musical Productions Inc. (RCMPI), Kitchener/Waterloo Musical Productions (KWMP), Globe and Drayton musicals on trumpet/trombone/french horn, as well as soloing for churches and other ensembles.  MORE CLICK HERE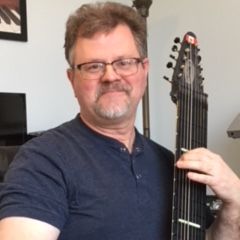 Rob Gellner
Featuring the Chapman Stick
Stay tuned for further events featuring Rob on the Chapman Stick!
The Chapman Stick is and electric instrument devised by Emmett Chapman in the early 1970s. A member of the guitar family, The Chapman Stick usually has 10 or 12 individually tuned strings and has been used on music recordings to play bass lines, melody lines, chords or textures.  Designed as a fully polyphonic chordal instrument, it can cover several of these musical parts simultaneously. 
Rob Gellner on Chapman Stick